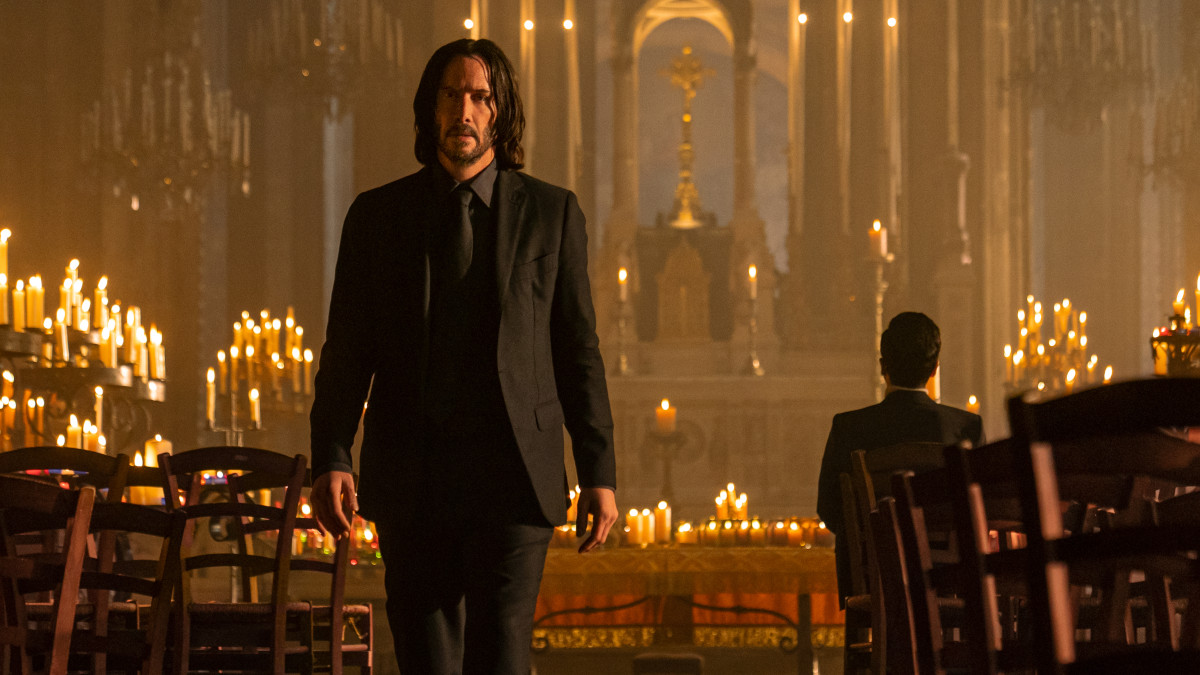 John Wick Chapter 4 Has Keanu Back and Better Than Ever
The delight of the John Wick franchise lies squarely in its weirdness. The film series famously kicked off with mercenary protagonist and certified wife guy John Wick, played by Keanu Reeves, avenging his dog. But as John's thirst for vengeance dwindled, the screenwriters decided to surround him with bloodthirsty weirdos rather than kill more of his loved ones. Even better, the films are aware of their own strangeness, lending a campy joy to even the dourest deeds.
The franchise is at its bizarre best in "John Wick 4," written by Shay Hatten ("John Wick: Chapter 3," "Army of the Dead") and Michael Finch ("Predators," "American Assassin") and directed, as always, by stuntman Chad Stahelski. The wild world of assassins is more esoteric, the cinematography and choreography more stunning. Though the film stretches to an audacious 169 minutes — just under three hours — if you surrender yourself to the gorgeous silliness of the Wickiverse, it goes by in a fist-flying flash.
"John Wick 4" opens on shots of a bloody fist punching a post. Our hero is back from the dead and ready to rumble. As the Bowery King (Lawrence Fishburne) watches over his dog, John embarks on an international quest to bring down the High Table, starting with its desert-dwelling Elder (George Georgiou, "Game of Thrones"). Trouble comes to the New York Continental's door in the form of The Harbinger (Clancy Brown, "The Shawshank Redemption," "Dexter: New Blood"), who orchestrates the destruction of the entire building.
The Harbinger is working in concert with the Marquis de Gramont (Bill Skarsgård, "Barbarian," "It"), a High Table member who has been granted special oversight in order to take down John Wick once and for all. The Marquis has handpicked Caine (Donnie Yen, "Ip Man," "Rogue One: A Star Wars Story), a blind assassin and John's old friend, to do his dirty work, but he has other tricks up his sleeve to get the job done. The Osaka Continental comes under fire when John seeks safe harbor there, and an anonymous, hipster hitman (Shamier Anderson, "Wynonna Earp," "Invasion") and his Belgian Malinois join the fray as John's contract fee skyrockets.
No retribution is too ridiculous, no massacre too jazzy. The scenes at the Osaka Continental are particularly yummy. Master cinematographer Dan Lausten ("Crimson Peak" and "John Wicks 2 and 3") takes unabashed advantage of that city's neon-soaked aesthetic, and Reeves and Yen have their first face-off. Pop star Rina Sawayama makes a welcome addition as Akira, Concierge of the Osaka Continental and daughter to its owner, another old pal of John's named Shimazu (Hiroyuki Sanada, "Sunshine," "Bullet Train"). Akira gets some of the best choreography of the film, letting arrows fly as she launches herself from villain to villain in her Katniss Everdeen-meets-dominatrix best.
Five choreographers, led by stunt coordinator Scott Rogers ("John Wick 3: Parabellum"), oversaw a record 14 action sequences to get this movie made. But if your eyes tend to glaze over during extended fight scenes, have no fear. As in the third film, John brandishes and discards weapon with the swiftness of a video game character, finding creative uses for every cudgel. (There are no pencils in eye sockets this go-round, but get ready for our hero's first dalliance with nunchucks.) Caine also presents a fun creative challenge: Rather than his blindness lending him preternatural fighting ability, he must use his wits and weapons to sense his attackers coming. His swordlike cane does most of the work, but in one memorable sequence he peppers a passage with motion-activated doorbells.
The film's pièce de résistance, though, is undoubtedly the flamboyant Marquis. Bill Skarsgård leaves no scenery unchewed as he simpers from the ballet to the stables in a series of flashy suits, all of which come with double-breasted waistcoats and chained pocket watches, and some of which are covered in glitter — thank you, costume designer Paco Delgado ("The Skin I Live In," "Cats"). As Skarsgård admirably attempts a French accent and luxuriates in hilarious extravagance, it's difficult not to root for him. He's the funnest character in this franchise by far — a high bar, since "John Wick 4" is replete with showy talent. Scott Adkins ("Zero Dark Thirty," "Doctor Strange") and Natalia Tena ("Harry Potter and the Order of the Phoenix") also delight as a German villain and Ruska Roma boss, respectively.
Though it reaches a rushed conclusion, "John Wick 4" barrels along with charming idiosyncrasy. Reeves delivers each line as though he has just learned to speak for the first time. A fire-blasting shot gun gets some excellent screen time. Lausten's cinematography has never been more inventive. Even when it drags — 169 minutes is a lot of time to fill, even for this masterful crew — the film gamely mixes comedy, action, and drama into one truly satisfying cocktail. If you're more inclined to wait for streaming, make an exception just this once. Every audacious set piece, costume, and fight scene was clearly, lovingly made for the biggest of all big screens.