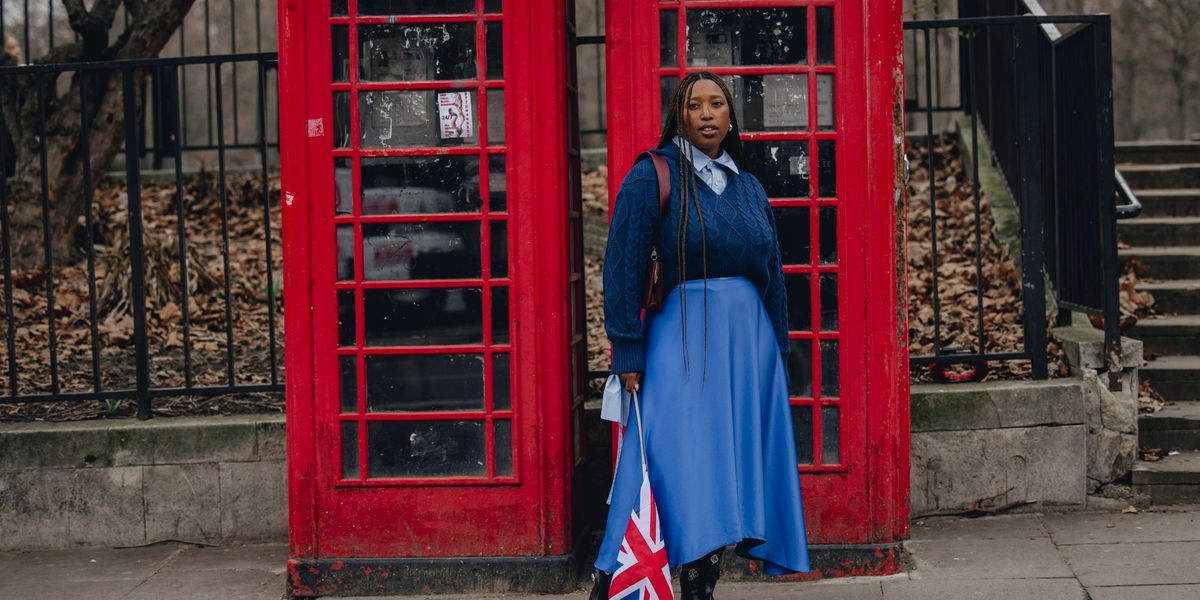 How A Stylist Dresses for London Fashion Week
Welcome to Style Diaries, a series where we research the physical manifestations of our closet tours IRL. We're asking friends and tastemakers to show us what they're *actually* wearing during the week and to provide a little insight on their thoughts on personal style.
"I am a power packer. I live between Jamaica and New York. I travel often. I know how to get things into one suitcase," says stylist Mecca James-Williams. "But New York [Fashion Week] was such a whirlwind for me that I had about four hours to pack before my flight. I just threw things in a bag." Three suitcases later—"I'm embarrassed," James-Williams admits—she had assembled enough of a wardrobe to carry her through London Fashion Week's robust schedule of fashion shows, meetings, and parties.
The stylist is no stranger to New York Fashion Week. She added London to her rotation this year to broaden her horizons, connect with clients and contacts, meet her agents, and see collections with brands she's worked with in a styling capacity coming down the runway—lookbooks only go so far. Her schedule included viewing collections from Fashion East, Rixo, and CompletedWorks, but we were most interested in what she wore to said events.
James-Williams loves structure—at least in terms of silhouette—though she describes her style as "all over the place" right now. She likes loud colors and bold shapes. "I'm a petite woman in general, but I also am very curvy. I like to add pieces that accentuate that." For LFW, a time many embrace the peacocking nature of fashion, the looks were true to her personal style. "They were kind of like everyday. [At least], I would wear them everyday." The result is a mix of pieces from new designers and some of James-Williams' trusted wardrobe essentials. "Every season I love discovering new brands and trends, and adding them to my wardrobe. It's like I'm a kid in a candy story when it comes to stuff like that. I don't only go to the chocolate. I want to try it all."
Look 1: Embracing New Brands
Jacket and Skirt: Andersson Bell; Tank: Uniqlo; Bag: Danse Lente; Boots: Proenza Schouler; Necklace: Zara
"That look I bought completely in L.A. when I was there for work. I walked into Terminal 27 like, 'I just want to shop.' I ended up finding a really beautiful leather jacket and a denim skirt. They are from this brand called Andersson Bell, which is a Korean brand. I didn't know of the brand until I saw them and was like, 'Ooh, these are great.' So I bought them and immediately [thought] Fashion Week. I added silver and white accessories. The boots are Proenza [Schouler]—they're my favorite white boots. I love boots that come all the way up the leg. As a short girl, a boot just elongates you. And then the silver necklace is Zara. I'm a classic gold girl—that's my personal, dainty jewelry. But if I want to make a statement, I'm probably going to pull a silver moment."
Look 2: Statement Boots, Simple Ready-to-Wear
Top and Skirt: Christopher Esber; Jacket: Alexander Wang Cropped Jacket via Shopbop; Boots: By Far; Bag: Coperni
"I knew I wanted to wear my gold By Far boots in London. I feel like I've been wearing them more as an evening boot and I wanted to change that. I think a really beautiful knit outfit—in essence, you have a knit skirt and a cropped sweater here—is great. But with that high slit and then a fuzzy Coperni bag, it just really made my outfit fun. I also added a denim jacket, just to level everything out."
Look 3: Outerwear is Key
Coat: IENKI IENKI via Shopbop; Top: Cos; Trousers: Celine; Boots: By Far
"I was messaging my friend that I was coming to London and she was like, 'Dress warm. I see you guys are in really light layers in New York because it's warm. It is cold in London.' And literally, I brought one coat—I got this one via Shopbop—and that was it. I kind of just threw this look together. I wanted it to be bright and bold and I was like, 'what's not bright and bold about a red coat, a red pant, a red Dior bag, and a multicolored shirt under?' Then I paired it with my pink By Far boots—clearly By Far, and I have a really beautiful relationship because I love their boots."
Look 4: Leaning into the London Aesthetic
Shirt: Monse via Shopbop; Sweater: Sablyn via Shopbop; Skirt: Lapointe via Shopbop; Boots: Toga Pulla; Bag: Ratio Et Motus
"This look was about the color palette. I saw this really beautiful silk Lapointe skirt. I feel like blue is such a traditional color for America and for London, so what can I add to it? A button down collared shirt from Monse, and then I had this really beautiful cropped knit sweater. When it came to color, I just said, 'Let's put all the [shades] together.' I added a classic black boot with studs and then I had a really beautiful burgundy bag from Ratio Et Motus. The outfit felt very traditional and very classic. It was very much a cable knit sweater that was cropped with a button down under it. It really just felt like, 'Oh, let me have a London accent and run around in front of the iconic telephone booth.'"