Former FA chief executive Martin Glenn: England's future success at heart of dispute between Premier League and FA | Football News
Former FA chief executive Martin Glenn says the future success of the England team is at the heart of a dispute between the Premier League and the FA over international players playing in the top division.
New statistics, revealed exclusively by Sky Sports News, show that so far this season English-qualified Under-21 players have had less than a third of the top-flight game time experienced by France's Under-21s.
Premier League sources have challenged those figures, saying that over the last three seasons, English youngsters have played more league minutes than their counterparts in Spain, Italy and Germany, and they have outstripped all of their European competitors – including France – in terms of game time in the Champions League.
The Premier League wants to see the rules relaxed for foreign players applying for work visas in England, while the FA is determined to make the criteria even stricter.
Glenn admits this is a thorny issue, and a very difficult one to solve.
He explains: "You can't say, 'Well, I just want to maximise the chance of success for my Premier League club', and not think about the wider picture.
"The wider picture in this debate is, we want to be successful with England teams.
"How do you reconcile a legitimate desire wanting England teams to have the best raw materials to compete in tournaments, with Premier League clubs being the best in the world and most advantaged. There's no right or wrong answer, but the stakes are high."
Glenn points to Marcus Rashford as a good example of how he feels young English talent can get opportunities often by chance, rather than design.
"Marcus Rashford got his break for Manchester United because there was an injury during training before a European match," Glenn says.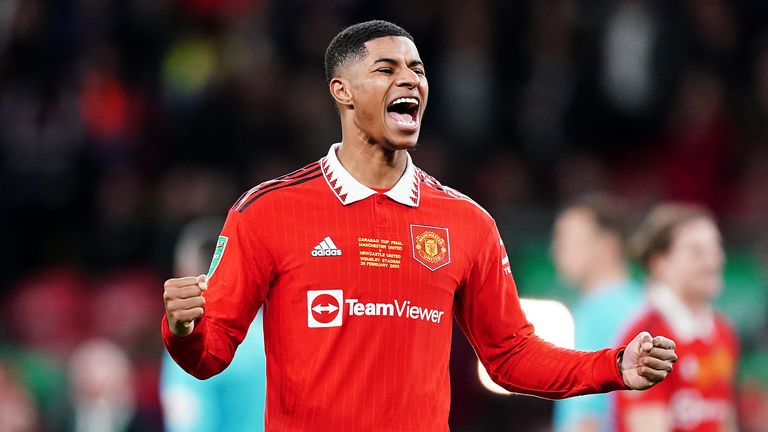 "Chelsea, when they had the ban on transfers, suddenly found a wealth of talent from their terrifically well-organised academy, and those players came through – they probably wouldn't have done, had that not happened.
"So I think there's enough talent within the Premier League clubs. They will complain and moan about things a bit but they will manage to still create great teams and I don't think the commercial advantages are as bad as it looks, given the wealth that's in the Premier League."
Glenn feels there needs to be compromise on both sides, in the ongoing negotiations between the Premier League and the FA.
"The discussion shouldn't be a binary one – I win, you lose. It has to be the best for English football," he says.
"Of course the FA want the Premier League to be successful, but the Premier League also operates within society, so they benefit from the grassroots development of players, they're beneficiaries of the English football ecosystem which is so comprehensive."
How clubs are being creative in getting around FIFA rules
Sports lawyer Tim Bailey explains how Premier League clubs are having to be creative in getting around FIFA's strict transfer laws

Sports lawyer Tim Bailey, who has been involved in over 500 international transfers, has explained to Sky Sports News how Premier League clubs are having to be creative in getting around FIFA's strict transfer laws.
He said: "Most clubs, going back three or four years, have affiliations with, or partnerships with, or ownership of clubs outside of the UK.
"Obviously the main example of that is the the City Football Group, who have clubs all over the world.
"Using them as an example, look at Girona – if that 15 or 16-year-old prospect is in France, they can't sign him to City, but they can sign him to Girona.
"What they do then is develop that player, put him into the first team, or move him to another club in the group, maybe Belgium where you have a higher banding, get his domestic minutes up, and before too long he can come straight in, get his 15 points in the UK and get his work visa and play for Man City.
"It's an important concept which is becoming more and more important to Premier League clubs."