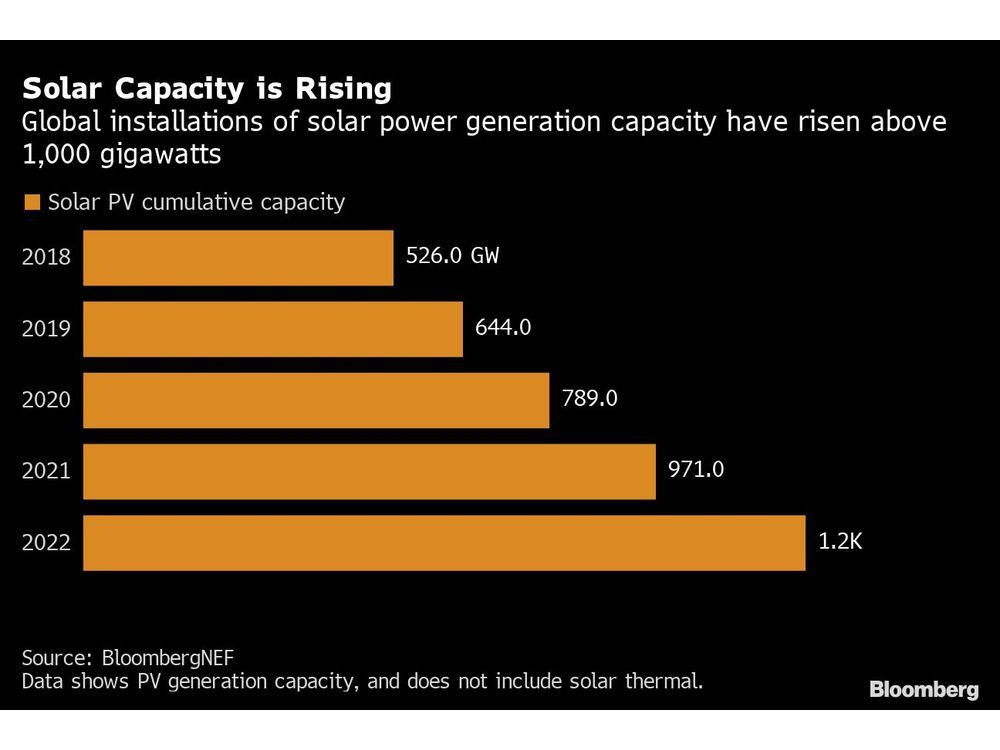 China Rooftops Could Almost Match Size of Global Solar Industry
Article content
(Bloomberg) — China's buildings and rooftops have potential to host more than 1,000 gigawatts of solar power capacity — almost the same size as the entire existing global industry, according to the sector's largest manufacturer. 
Article content
There's theoretically enough space on residential, commercial and public properties to host that scale of generation capacity as costs drop and technologies advance, said Zhong Baoshen, chairman of Longi Green Energy Technology Co. That would be enough to power at least 750 million homes during peak generation. 
Article content
Solar photovoltaic generation capacity rose about 27% to 1,223.5 gigawatts globally in 2022 and China accounts for more than a third of the total, according to BloombergNEF.
Reaching the 1,000 gigawatts level would require the industry to overcome hurdles such as grid constraints and a lack of energy storage capacity, meaning the estimate will likely remain theoretical in the near term. Still, Zhong is confident on China's ability to rapidly develop such distributed renewable sources. 
Article content
Read more: Longi Plans World's Largest Solar Factory for $6.7 Billion
The country's Ministry of Housing and Urban-Rural Development last year set a goal of adding 50 gigawatts of solar capacity on buildings between 2021 and 2025. Instead, last year alone, the country ended up adding 51 gigawatts of distributed solar projects, mostly on the rooftops of homes, factories and office buildings. 
Distributed solar projects are also a boon for rural revitalization, a key government priority in recent years to boost economic development and improve living standards in the countryside. "Rural revitalization is not only about rapid economic development, but also green and low-carbon development to meet villagers' expectations for a better life," Zhong said in a written response to questions.